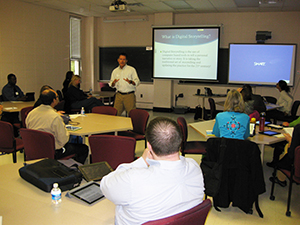 The first iPads in Education Conference, was held on Saturday, October 19, in Willard Hall Education Building and 168 pre-K to college educators from Delaware, Pennsylvania, Maryland, and New Jersey attended.  The conference, sponsored by the Office of Educational Technology, The College School, and the Education Resource Center in the College of Education and Human Development, gave regional educators an opportunity to learn how others integrated the iPad into their curriculum.
Thirty-three concurrent sessions were offered that included diverse topics such as digital storytelling, creating art on an iPad, flipping the classroom, and using the iPad to foster problem solving. A complete list of sessions is available on the iPads in Education site.
A featured presenter at the conference was Monica Burns (CEHD '07) who presented on energizing lessons with iPad apps aligned to the Common Core and on teaching common core math with iPads.  Ms. Burns is a New York City educator and Apple Distinguished Educator whose blog is at http://classtechtips.com.  She has spent the past six years teaching in general education and Integrated Co-Teaching (ICT) classrooms.
Ms. Burns commented, "It was so wonderful to meet passionate Delaware educators at the iPads in Education Conference here at UD. Not only was I excited to share my work surrounding iPads and the Common Core, but I had an opportunity to hear about the great things going on in other teacher's classrooms and their vision for how technology can be used to transform instruction."
One attendee commented that the conference was, "A great learning experience.  I can't wait to attend next year's conference."