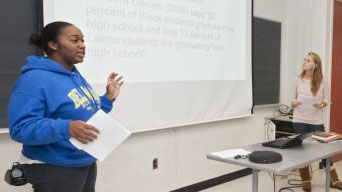 The Office of Educational Technology provides the following services to faculty and staff in the College of Education and Human Development (CEHD):
Technical Support
To request technical support, CEHD faculty and staff can send e-mail to oet-help@udel.edu or complete a technical support request form. Messages sent to oet-help are read by OET staff members weekdays between 8:00 a.m. and 5:00 p.m. To ensure that you receive the fastest service possible, please do not call or e-mail OET staff individually, as a staff member may be out of the office on any given day. Requests are added to a service queue and handled on a first-come, first-served basis, except in emergency situations.
Faculty and staff within CEHD can check on the status of any help requests they opened within the last month. You may also find answers to your questions from OET's support blog on our site's home page. Please note that University clients who are not in CEHD, should contact central IT at consult@udel.edu or (302)831-6000 for technical support.
Website Development
The Office of Educational Technology develops and hosts websites for CEHD units and units outside the College.  Contact OET to learn more.
Laptop Cart
We maintain a laptop cart that faculty and staff within CEHD are welcome to reserve.  The cart contains 20 Dell Latitude laptops running Windows 10, each with 8 GB of RAM and an i7 processor.
New Arc Academy
Hosted by OET, the New Arc Academy summer camp for 4th through 7th graders meets two weeks on the University of Delaware's Newark campus during late July and early August. In 2017, camp participants will focus on marine sciences from July 24-August 4, 9:00 a.m. to 3:00 p.m.  At the New Arc Academy, students engage in the hands-on design of products, systems, and environments while they learn about technology. Academy themes change each year and revolve around robotic, physical, biological, and information systems.
Week of Code
Held in July, our week-long Week of Code camp offers 5th-8th grade students an in-depth programming experience. Students use Processing, a cross-platform, Java-based language focused on visual arts to experience mobile application programming and physical programming. Students' days are divided in two sessions. Session one focuses on traditional application programming with the goal of producing an Android app using Processing Android mode. Session two focuses on physical programming using Processing to interact with real-world items such as Finch robots and Arduino micro-controllers.
Do2Learn
Do2Learn is the CEHD maker space managed by the Education Resource Center and OET. Located in 012 Willard Hall Education Building, the maker space is open to CEHD students and staff.  A range of STEM (science, technology, engineering, art, and mathematics) materials are available for students to use.
Seminars and Training
The Office of Educational Technology provides computer training on a wide variety of topics, including WordPress training and SMART Notebook instruction. In addition, staff and faculty may request on-demand seminars or one-on-one help. Instruction can be delivered in a centrally-scheduled classroom or at your location. Look on OET's calendar and News and Events page to see upcoming training sessions.
Technology Resources
The Office of Educational Technology compiles useful technology resources for faculty and staff.
Consulting
Office of Educational Technology staff provide consulting services for internal and external clients regarding web site and database development, equipment purchases, and best practices in computer security and network installation and maintenance.
Call (302) 831-8162 or e-mail OET, for information about setting up custom training or consultation services.