Office of Educational Technology
Educational App of the Month: QR Code Creators
Quick response (QR) Codes are barcode images that are useful for connecting to audi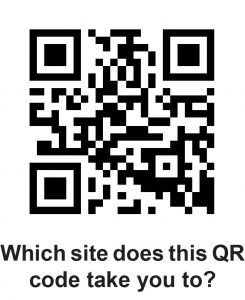 o files, text files, and web sites. In the classroom, students can scan QR codes for fast access to information, saving time and paper. Depending on how they are used, QR codes promote authentic learning and can provide differentiation.
There are many ways to use QR codes in college, elementary, or preschool classrooms. For example, instead of having students copy web addresses, have your students scan QR codes in a PowerPoint to link to other resources, on books to read book reviews, at learning or identification stations throughout a classroom, or to gather information or images for a digital storytelling project.
To create a QR code, you will need a QR code creator such as QR Stuff or QR Code Generator. Google's link shortener will also create a QR code, if you click the accompanying details link. These code creators will either allow you to download the QR code or to right-click on it and choose "save picture as".
To use or scan a QR code, you will need a device with a camera, such as your smart phone, iPad, or a computer webcam; software that reads it; and access to the Internet via a web browser. Many apps are available in the iTunes Store (iOS) or Google Play store (Android) that read QR codes. Search for QR code reader or scanner.