Office of Educational Technology
SPSS Version 24 Available for Purchase
Version 24 of SPSS is now available for purchase.  The cost is $75 for SPSS and all modules.  Also available is AMOS for $50.  If you run SPSS currently and receive a message that SPSS will expire June 30, you can safely ignore the message for now.  The software will continue to run for 30 days or more past the expiration date, giving you time to purchase and install the new version that will be available later in July.  Anyone who purchased SPSS in the past should have received a renewal notice from IT indicating version 24 is available.  You can purchase via the Request for Service-IT Software License Form.  More information on SPSS is available on IT's site.
Know Your Login History
You can keep track of when you logged into UD systems that use the Central Authentication Service (CAS) by logging into My UD Settings.  Click on the Show my login history button near the top of the page, under My Account Settings.  If you don't recognize a session, then someone else knows your UDelNet ID password, and you should follow the directions in the next story.  In addition, if you haven't already, enroll in 2FA at My UD Settings, to provide you with an extra layer of security.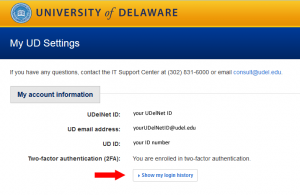 Help! I Responded to a Phishing Scam
As phishing scams get more sophisticated, it's sometimes difficult to tell what messages are legitimate.  If you respond to a phishing scam, immediately take the following steps in order to protect your data.
Change your UDelNet ID password. To do this, log into the network page and select the first link Change your password.
Change your Google Apps password to one that is different from your UDelNet ID and OET passwords. To do this, log into the network page and select Obtain or change your password for IMAP or iCal access to Google Apps @UDel.edu. Select Enter a password of your choice. Create one at least 12 characters long so that it is relatively strong. This password is only used to configure mobile devices for mail.  You will not have to remember this password, as you can easily reset it.
If you use Exchange for email, hackers can use your UD credentials, if they know them, to send mail as you under your Google Apps account.  Every full-time employee has a Google Apps account by default.
Log into Google Apps. In the window that lists any mail messages you may have, scroll to the very bottom.  Click on the small, gray Details link on the right. Click the button to Sign out all other web sessions.  Log out of Google Apps.

Contact oet-help@udel.edu. We will scan your device, in case the phish message downloaded and installed malware.
WordPress Users Group Meeting
Our next WordPress Users Group Meeting will be held Tuesday, July 26 in 205 WHL from 12-1 p.m.  Hope to see you there!
Exchange Mail Upgrade Changes
Over the next few weeks, IT will upgrade their Exchange server from Exchange 2013 to Exchange 2016. This will involve migrating mailboxes to new servers. If you are an Exchange email user, you will notice a few changes.  When IT finishes moving your mailbox to another server, you will notice a brief 1-5 minute service interruption.  In addition, you'll notice a slightly different appearance for the OWA page, the web page for Exchange email access.  The Web service will have a different name, Outlook on the Web, instead of Outlook Web App. Preparations for the migrations began June 22 and migrations are expected to continue through mid-July.
Adobe Spark: Educational App of the Month
Unleash your students' creativity with Adobe Spark.  In minutes, create professional looking presentations, videos, social graphics, web stories, and more.  Adobe Spark, previously called Adobe Voice, has been adopted by many educators for classroom use because of its relatively low learning curve and options, including the ability to use your own images and your own or stock audio tracks. For example, use Spark to create portfolios, for writing prompt responses, and to create animated and narrated videos of field trips. Adobe created a comprehensive guide (PDF) to Spark for educators with many project ideas.  Be inspired with Spark, a free app, on the web and the App Store.