Office of Educational Technology
OET Attends DigiGirlz 2019 in Georgetown
Three members of OET traveled to Delaware Technical Community College's Georgetown campus on May 15 to participate in the 2019 DigiGirlz event sponsored by Microsoft.  The event is designed to get 8th and 9th grade girls excited about careers in STEM fields.  We demonstrated basic circuit design using Squishy Circuits that combine Playdough and modeling clay to introduce concepts such as conductivity, resistance and electric load.  In the morning, we met briefly with all participants to describe how to make a circuit.  After lunch, we held a more in-depth two-hour session with a smaller group of participants.  The girls enjoyed building the circuits, and we are looking forward to next year's event.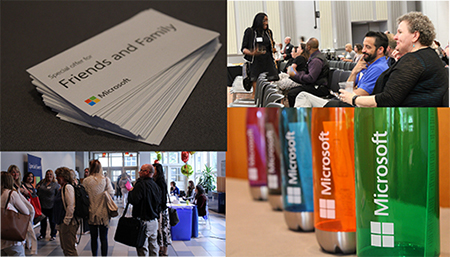 Microsoft Accessibility Event a Success
The Office of Educational Technology, along with the Center for Disabilities Studies, Information Technologies, and the Office of Disability Support Services, hosted an accessibility event, sponsored by Microsoft, at Trabant on May 7.  More than 130 people attended to learn how to create accessible documents in Office 365, operating system accessibility tools, and how to make learning more accessible.
Intro to Zoom Conferencing
For those who would like an introduction to Zoom conferencing, check out our new video.  The video explains how to organize or host a meeting and how to participate in a meeting.  It reviews how to check audio and video settings and how to send meeting invitations.
Do You Have a CrashPlan?
CrashPlan is now available to faculty and staff in CEHD who have critical data stored locally on their devices. CrashPlan encrypts your data before backing it up to the cloud. We recommend faculty and staff use their unit's H drives for storing private and shared data, as that is backed up daily, weekly, and monthly.  However, if you need a backup solution for local storage, contact us through the OET request form, and we will be happy to discuss with you if you qualify for a CrashPlan license. CrashPlan is available for Windows and Macintosh computers.
Windows 7 and 8 Upgrades to be Completed in June
We are in the process of upgrading all computers still on Windows 7 or 8 to the latest version of Windows 10. The license for McAfee antivirus will end June 30, 2019, and in order to get a supported antivirus solution, your Windows computer needs to be running Windows 10.  If your desktop or laptop computer still uses Windows 7 or 8, please complete the OET request form to schedule an upgrade with us as soon as possible. Before the upgrade, OET will back up your local data, so that you will still have access to it after the upgrade. We also will set up the latest versions of other standard software and will work with you to install any specialized software. The easiest way to tell if your computer is still running an older version of Windows is to check the appearance of the start button or menu.  If your computer displays the Windows 7 button or the Windows 8 start screen menu to the right, then it needs an upgrade to Windows 10.