Office of Educational Technology
September 2015 OET Newsletter
Two-Factor Authentication
Two-factor authentication (2FA) is now available for anyone who accesses central UD services such as UDSIS, Canvas, Cisco Any Connect VPN, UDTime, and Web Forms. It does not include mail services—Exchange and Google Apps.
Think of 2FA as another password that provides an added layer of security. You register for 2FA, and advise IT how you want to receive your randomly generated passcode—by a text message, a phone call, or through an app called Google Authenticator that generates codes every 60 seconds. When you enter your UD password, the system will ask for the 2FA passcode, which you have received by one of these methods. If your UD password is compromised, a hacker or unauthorized user would not be able to log into your accounts without entering this second piece of information.
To save time, you can notify the browser to remember you, so you will not have to enter a new passcode for seven days. Step-by-step information on how to register and to use 2FA is available from IT. If you have questions, contact OET.
SMART Board Speakers Installed
The School of Education has installed SMART Board speakers in 205 WHL. If you use the SMART Board there, you no longer need to bring external speakers with you for room-filling sound.
To use th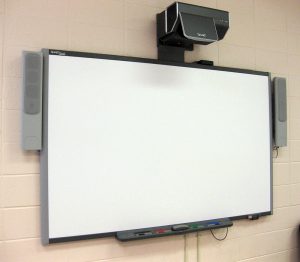 e speakers, you should update your computer to SMART Notebook Advantage 15. This software communicates with the board and allows you to create interactive lessons. The School of Education, Delaware Center for Teacher Education, The College School, and the English Language Institute (served by OET) have paid for SMART Notebook Advantage licenses to cover staff and students who use the SMART Boards in rooms scheduled by these units. For information on license codes, contact OET.
UDETC
Registration and the call for proposals are now open for the University of Delaware Educational Technology Conference on Saturday, March 5, 2016.  The conference, a joint effort by The College School, the Education Resource Center, and OET, is our third conference geared toward regional PreK-20 educators.
If you would like to present, complete a presentation proposal. The conference is free for presenters.  We hope that you will be able to join us!
WP Users Group
What is the appropriate amount of Facebook posts per week? How often should you tweet per day? What can Instagram do for your unit that YouTube can't? Communication Specialist Lizzy Adams answered these questions and more, when she discussed social media at this month's WordPress Users Group meeting. If you missed it, you can view Lizzy's presentation on our website. Our next meeting is scheduled for Wednesday, November 11 at 12:00 p.m. in 205 Willard Hall Education Building.
Snip Makes Screen Capture Easy: Educational App of the Month
Snip is a free Microsoft Windows app for anyone who wants to easily capture their computer's screen. Not to be confused with the standard Snipping Tool available on Windows computers, this app does more, especially for the instructor who wants to flip his or her classroom. Snip allows you to quickly capture your screen, record video and audio, and annotate your videos or images. Then you can share the file through email, a web address, or by uploading to a learning management system such as Canvas or Sakai. Although available currently in preview mode, it performs just as advertised.